Facebook is eyeing augmented reality.
CEO Mark Zuckerberg confirmed that Facebook was exploring augmented reality at Vanity Fair's New Establishment City Summit this week in San Francisco, TechCrunch reported.
"Yeah," he immediately replied when asked if augmented reality was a possibility, following up that "it's a bit farther out."
Virtual reality's potential has been well-documented thanks to the creation of technology like the Oculus VR headset. But few people are familiar with what augmented reality is and how it is being used.
Augmented reality layers virtual elements on top of the real world, whereas virtual reality completely shuts off the world around you to immerse you in a virtual world. What makes augmented reality so cool is that it inserts virtual, 3D images into your physical space.
Microsoft's augmented reality headset, the HoloLens, lets a roboarmy invade your living room. It debuts next year.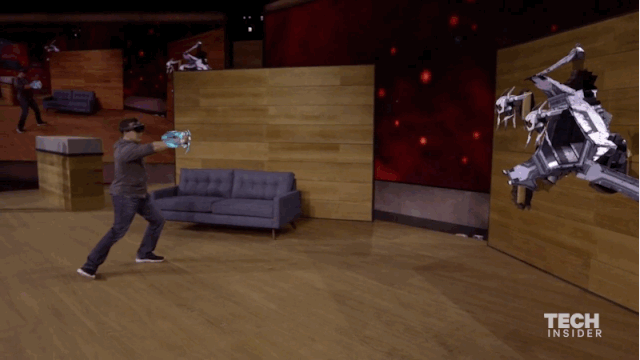 You may be fully aware on some level that the scary robot bugs crawling on your couch aren't real, but they sure look real. The HoloLens can do some pretty incredible things, from turning your hand into a laser gun to layering virtual elements such as the time, date, and weather on top of your physical environment. But the early version launching next year comes with a hefty price of $3,000.
Disney created an app that allows children to draw a 3D character in real time.
People who wear castAR glasses can do anything from attacking giant robots to pulling up YouTube videos midair.
Microsoft's HoloLens can also be used to teach anatomy to medical students.
UCLA created an augmented reality sandbox that lets you create erupting volcanoes, mountains, rivers and canyons.
Magic Leap has been hush about showing off their technology, but it'll let you do anything from shooting robots to pulling your email up out of thin air.
Apple acquired Metaio, which makes augmented reality technologies, in May.
WayRay uses augmented reality technology to project holographic images on your windshield so you don't have to look away from the road for directions.
WayRay
The technology, named Navion, projects a full-color holographic image onto the car windshield. Navion provides the current speed, how far away the driver is, and when the next turn is. Meanwhile, the green arrows help guide the driver.
WayRay will launch a Kickstarter campaign for Navion later this October. By the end of the year, the company plans to finalize the product's design and begin worldwide shipment in May of 2016.
This man created cards that turn into 3D characters for kids to play with.
NASA paired up with Osterhout Design Group to design augmented reality glasses that will allow astronauts to more easily fix things in space.
NASA
NASA originally approached Google about making the augmented reality glasses, but was turned down when the tech giant said they would prefer to focus on consumers. Astronauts would wear the glasses aboard the International Space Station, where they would provide visual instructions about how to fix equipment (similar to what we saw with Metaio).
Read the original article on Tech Insider.
As written in BusinessInsider.com by Danielle Muoio – October 13, 2015